Grizzly Bear's Veckatimest is a colorful and cinematic 45 rpm vinyl reissue mastered at mid-speed Me Please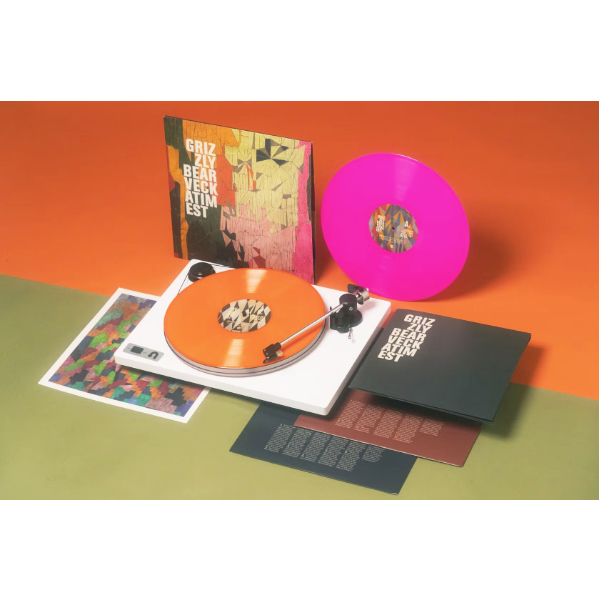 I discovered New York's Grizzly Bear in the most typical way, for me – on the in-store PA system at Amoeba Music here in San Francisco. When their in-store piece arrived at the band's big hit at the time – "Two Weeks", from their May 2009 album Veckatimest – I realized that I had indeed heard the song's distinctive hook before, inducing earworm and millennial whoop flavor. Soon I started collecting the Grizzly Bear catalog on vinyl.
While I enjoyed my 180g Veckatimest reissue, I've long suspected there might be more hidden depth in the recording. So, I was thrilled to hear that the good folks at Vinyl Me Please (VMP) were re-releasing Veckatimest in a 45 rpm color vinyl edition mastered at half speed.
I'm always surprised how many people have never heard of Grizzly Bear. Calling them "indie rock" doesn't quite do them justice, as indie rock usually doesn't feature mellotrons, multi-voiced harmonies, and bass guitar solos. Grizzly Bear isn't afraid to crank out rich nylon-string acoustic guitars akin to English artists of the late 60s and early 70s either. In some ways, the music on Veckatimest leans much more towards Gentle Giant, early Genesis albums and some choice Robert Wyatt albums. Imagine what might have happened if the singer from Beirut, another Brooklyn-based band I like, had gone to a post-Summer of Love/Acid Test meditation jam with Jeff Buckley, Lamb-era Peter Gabriel, Graham Nash, David Crosby, Smile-era Brian Wilson and Procol Harum. The music they all could have made together may well have started to sound like Grizzly Bear.
And now, on to vinyl. In general, this VMP edition is the best version of Veckatimest I've heard so far, with richer bass and mids complementing the clean high end. Fortunately, standard-weight vinyl pressing is quite enjoyable for most. (More on that in a moment.) It's nicely centered, and the set's two colored vinyl variant discs (orange/pink) are quiet. The music comes out of the speakers and the disc effectively disappears from your state of mind.
There are many nice details in the new VMP 45 rpm version of Veckatimest. The fuzz bass lines are much more distinct, resonant and prominent on the opening track, "Southern Point". Drum sounds are bigger and more resonant. There's a nice soundstage apparent on tracks like "Hold Still". Victoria Legrand's guest backing vocals (of Beach House fame) on "Two Weeks" are more distinct among the rest of the band's harmonies. "Ready Able" opens with a musical interlude that sounds particularly beautiful now – almost like a September 2004 snippet from Brian Wilson Smile album.
In general, VMPs Veckatimest feels much less compressed than my previous pressing. I feel more of the presence of the home-turned-studio where much of the music was recorded (on Cape Cod, of all places) coming through my speakers. This is very apparent on "Two Weeks", which feels more open and airy. Small details such as the Partridge Family-esque harpsichord arpeggiating behind the chorus sections of this song appear much more distinct here.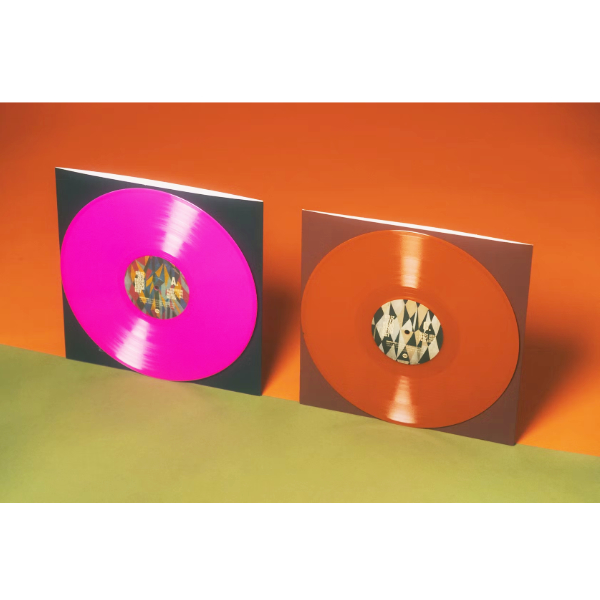 Perhaps most important to me, there's a lot less of that tell-tale power play, especially around the lead vocals on the new VMP pressing. I can crank it up nice and loud without feeling harshness threatening to overpower the music – a common victim I hear in many modern productions.
The stereo separation on the VMP version of Veckatimest is significantly improved. Comparatively, sometimes my previous 180g version sounds almost mono (it's not, but I wonder if it was originally mastered with portable and automotive listening in mind). This new version feels a bit more cinematic, in that sense.
Mastering is overall much more enjoyable on the new VMP Veckatimest, although a bit stronger than my previous pressing. Oddly enough, the tracks essentially fill the same amount of physical disk space in 45 rpm as the 33 1/3 pressing.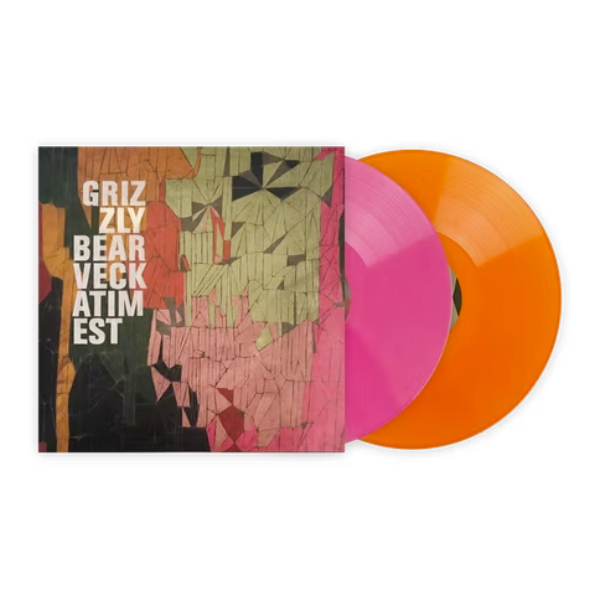 So what's the big difference here? This is the same original album after all, not a remix. Well, assuming all other production stuff is constant, the only significant variation I've noticed in the production notes on the VMP website is their pressing of Veckatimest had his new lacquers mastered at half-speed 45 rpm by Barry Grint at Alchemy Mastering At AIR, the mastering arm of the legendary recording studio founded by the late great Sir George Martin. I suspect that's probably a pretty big factor in providing that new perspective on these recordings.
The only production disappointment with my particular Veckatimest when pressing, there was some kind of weird scratch on one side, causing a song to click. I've alerted the folks at VMP about this, and hopefully I'll have a replacement soon. (I also hope my copy is just a one-time anomaly.)
My only other issue is that it would have been nice if VMP had reproduced the 12 page booklet as included in the original UK pressings. However, the new version Is include its own simple but useful booklet containing a beautiful perspective essay by writer Sophie Frances Kemp. The new edition also includes a beautiful art print suitable for framing by cover artist William J. O'Brien.
All in all, I'm very pleased with this fine reissue of a 21st century progressive pop classic, and have no problem recommending the VMP edition of Veckatimest yours.
(Mark Smotroff is an avid vinyl collector who has also worked in marketing communications for decades. He has reviewed music for AudiophileReview.com, among others, and you can see more of his impressive resume at LinkedIn.)